Watch Demo
CBS Early Show
Costs Much Less
The sturdy Grass Stitcher delivers a return on your investment every time you use it. Your only other expense is seed and starter fertilizer. This makes the Grass Stitcher much less expensive than any other method.

COST COMPARISON
Typical cost to repair 1000 Ft Sq lawn
Costs are general and vary from region to region and conditions
Labor cost @ $15.00 / Hrs
Material cost - includes seed, mulch, fertilizer, and topsoil for #2
| | | | | | |
| --- | --- | --- | --- | --- | --- |
| No. | PRODUCT | MATERIAL COST | LABOR COST | RENTAL COST | TOTAL COST |
| #1 | Bagged Patch Seed / Mulch | $200.00 | 2hrs / $30.00 | | $230.00 |
| #2 | Wheel-barreling Bags of Seeding Topsoil | $434.00 | 3hrs / $45.00 | | $479.00 |
| #3 | Bulky Power Machines | $36.00 | 1hrs / $15.00 | $100.00 | $141.00 |
| #4 | Heavy Sod | $304.00 | 4hrs / $60.00 | | $360.00 |
| #5 | Grass Stitcher | $36.00 | 2hrs / $30.00 | | $66.00 |
As you can see from the cost comparison chart, it doesn't take long to get a return on your investment in the Grass Stitcher. When you look at the real cost of those other ways to repair your lawn the Grass Stitcher is an outstanding value.
In fact, your Grass Stitcher will pay for itself after the second lawn repair, which makes it the least expensive and easiest method for repairing your lawn. So stop wasting your money and time on quick lawn gimmicks or heavy processes. With the Grass Stitcher, you just stitch, seed, sprinkle and save.
Directions for Use
The Grass Stitcher's two modes of action - one for hard ground, one for soft - lets you get the job done anywhere.
Perforate the troubled spot directly through the dead grass with the Grass Stitcher, leaving the dead grass in place. Then you spread seed over the perforations and water.


Apply downward pressure to the wheels using either body weight with the horizontal handle or the footpad while rocking the wheel back and forth over the damaged lawn area. Make sure not to extend the Grass Stitcher too far out in front of you as this will make it difficult to use and decrease critical planting depth. Use small concise strokes back and forth no more than 12 inches per stroke for best results.


If the soil is hard, slide up the horizontal handle and use the footpad to apply pressure while rocking the wheels back and forth with your leg.


If the soil is soft, slide down the horizontal handle applying body weight to the horizontal handle while rocking the wheels back and forth for even quicker repairs.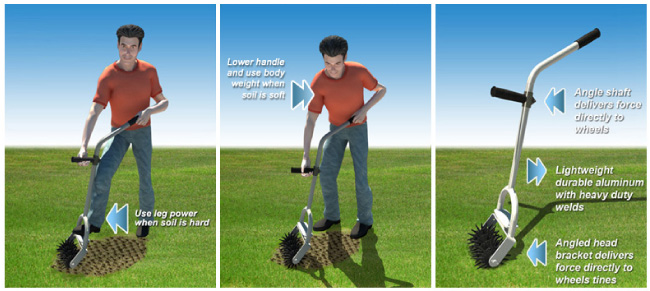 Eco-Friendly
Never again use pesticides!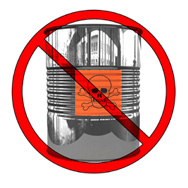 Never again use chemicals to address insects and diseases in your lawn. Repair your pest- or disease-damaged lawn quickly, effectively and inexpensively with the Grass Stitcher.

Many lawn pesticides are applied to prevent damage from insects or diseases because it has always been considered either too expensive or time consuming to take the risk of not applying them. The revolutionary Grass Stitcher has changed all that.

No matter what damage occurs, the Grass Stitcher makes it easy to fix, with little cost and no harm to the environment. So stop spreading those expensive, potentially harmful chemicals. Just stitch, seed and sprinkle when there's lawn damage.
Stop spreading insecticides!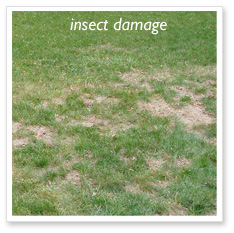 There's no need to spread potentially harmful insecticides when it's quick, easy and inexpensive to fix lawn damage if it occurs with the Grass Stitcher.

Now you don't have to spread potentially harmful chemicals on your lawn to protect against grubs and other pests. Keep your environment and your family healthy and save money by using the Grass Stitcher.

If damage does occur, just use the Grass Stitcher to quickly and easily repair any trouble spots.
Repair Pet Damage
Eliminate those unsightly pet-urine-damaged areas quickly and easily with the Grass Stitcher.

Dog urine damages lawns because it contains high levels of ammonia, which contains nitrogen, an ingredient found in common lawn fertilizers. A high concentration of it burns the grass. The key to repairing a pet-damaged area is to disperse the excess nitrogen so seeds can germinate. That's exactly what the Grass Stitcher does. First, water the area well to wash out nitrogen, and then use the Grass Stitcher to prepare for seeding and to crumble the soil, allowing oxygen to penetrate and dissipate the nitrogen further. Then spread seed, keep moist and watch your lawn grow back. Just stitch, seed and sprinkle, and those bare spots disappear.
Plant Flowers Too
Plant alternative ground covers or wildflowers from seed in no time, with the handy Grass Stitcher. Just stitch, seed and sprinkle!

Maybe you would rather grow something colorful along that rear border or that problem spot below that tree. Use the Grass Stitcher to plant your favorite plants. Just stitch, spread your favorite flower seed and sprinkle. Then watch your yard transform into a colorful retreat.
Shipping
Shipping for the Grass Stitcher is $14 per unit.
The Grass Stitcher includes a full lifetime warranty.