Ideal for Lawns up
to 4,000 Sq. feet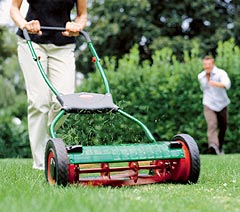 Luxus 33 FAQ's

Q:
What grass does the Brill Luxus 33 work on?
A:
All grass types except Bermuda, St. Augustine and Zoysia. The deciding factor is usually your lawn size. 4000 sq feet or less is what we recommend. Here is help figuring out your lawn size.
Q:
What is the difference between the Luxus 33 and Luxus 38?
A:
The blade width is 13.2" verses 15.2". And the Luxus 33 is 1 pound lighter. Here is a chart comparing all the Brill Mowers.
Q:
Why is the Brill the only reel mower which rarely needs sharpening?

A:

The Brill Luxus reel blades are unique. The reel blades miss the bedknife by .05mm, which is why the blades cut better and rarely need sharpening. On most other reel push mowers the reel blades make contact with the bedknife which explains why other push reel mowers need frequent sharpening. And of course all rotary blades need to sharpened regularly.

In short, lifetime precision cutting with little sharpening cost and repair shop time!

more faqs....

Your children can play safely along side a reel mower: there are no flying objects or toxic fumes. Imagine, you could actually talk to them while you mow! Mowing the lawn just became an enjoyable, family activity. Don't believe that can happen: see our story.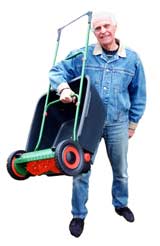 The Brill Luxus 33 reel lawn mower is identical to the Luxus 38, except that it 5 cm smaller cutting width. It is a good choice if you're looking for a mower to handle a small area like a condo and those small city gardens. No noise, fumes, tune-ups, gas, sharpening trips. So quiet you can mow anytime.
The Brill Luxus 33 reel mower weighs just 15 pounds, which is less than half the weight of many competing reel mowers. It also features a "silent cut" design which means Brill blades stay sharp and you will save money and time on sharpening services. In fact, when you calculate how much money is saved by less sharpening of the blades, the Brill 38 costs even less than an inexpensive mower.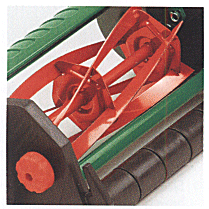 high-tech, lightweight materials and a non-contact cutting system deliver greater torque to the reel, less resistance when you push, and

blades which stay sharp longer

.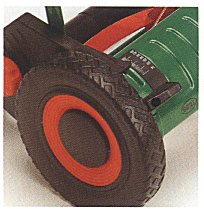 Precision Adjustment scale to the millimeter.
15 pounds (half the weight of many reel mowers)
Cutting Height adjusts easily from .7" to 1.8"
Cutting Width: 33 cm cutting width (13 inches)
Not self-propelled
7 inch metal cover protects overhanging flowers/shrubs
Optional Grass Catcher folds flat for storage
Revolutionary Blades
German Made High Quality Materials
Sealed Ball-bearing mounted reel
Dry Powder Coat on metal components
Powder coated surfaces are more resistant to chipping, scratching, fading, and wearing than other finishes. Colors stay bright and vibrant longer. Powder coating is also highly protective of the environment, because it contains no solvents.
Enameled metal components
Assembly + Other Details
Gap setting gauge included for annual reel blade adjustment.
Warranty : 1 year offered by PPM.
Replacement parts : no problem, PPM carries everything you could ever need.
Info about Reel Mowers ::
Info to Help You Make the Switch to a Reel Mower ::
Downloadable Brill Luxus Manual ::
Online Instructions and Guides...from opening the box to yearly maintenance
Warranty
Brill Luxus 33 Reel Mowers come with a year warranty.
Shipping
Shipping is free for the Brill Reel Mowers.
Return Policy