How Sun-Mar's Patented AutoFlow® Feature Works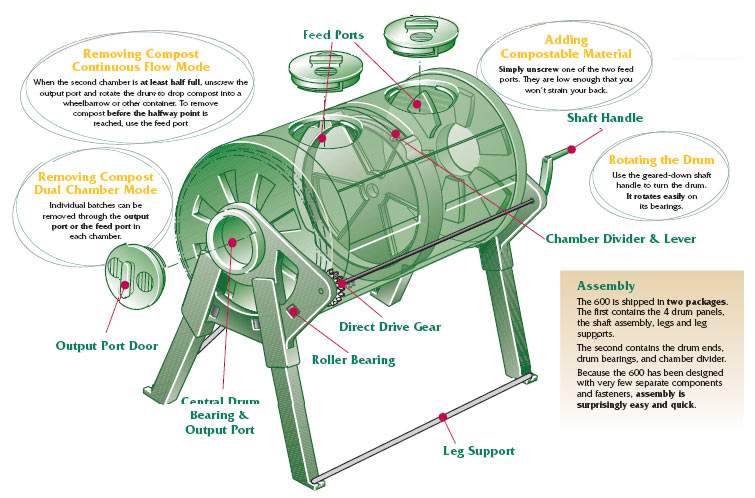 The Sun-Mar 600, with its 16 bushel (150 gallon) capacity, is the most flexible composter ever made. Ideal for composting a lot of material, the Sun-Mar 600 can be operated in Dual-Chamber mode, or in Continuous Flow mode.
The AutoFlow® system allows material to continuously "flow" or move through a special double-drum setup. Heavier material settles to the bottom. Lighter, decomposed material finds its way to the top and eventually enters the inner drum.
Using the flow system, finished composed is "forced" out when you open the port and rotate. Dispensing compost is simple! The Sun-Mar 600 has revolutionized tumbling composters.
Adding Compostable Material - Simply unscrew one of the two feed ports. They are low enough that you won't strain your back.
Rotating the Drum - Use the geared-down shaft handle to rotate the drum. It rotates easily on its bearings.
Removing Compost - Dual-Chamber Mode - Individual batches can be removed through the output port or the feed port in each chamber.
Removing Compost - Continuous Flow Mode - When the second chamber is at least half full, unscrew the output port and rotate the drum to drop the compost into a wheelbarrow or other container. To remove compost before the halfway point is reached, use the feed port.
Assembly - The 600 is shipped in two packages. The first contains 4 drum panels, the shaft assembly, legs, and leg supports. The second contains the drum ends, drum bearings, and chamber divider. Because the 600 has been designed with very few separate components and fasteners, assembly is surprisingly easy and quick/
Double drum keeps compost moving

Compost that's ready automatically sifts into inner drum

Pest proof
Snap-on optional wheels
Continuous Flow mode or Dual-Chamber mode offer flexibility
Easy to load and turn
You can also operate in Dual-Chamber mode with the Sun-Mar 600. Insert the internal divider, and you separate the Sun-Mar's large inner chamber into two smaller ones. Dual Chamber mode allows you to create separate batches simultaneously, for special gardening needs. Remove the divider and your rotating composter uses the entire inner chamber; Continuous Flow mode.