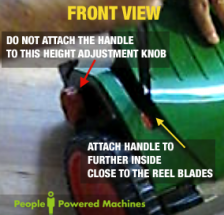 Brill Razorcut Reel Mower Handle Assembly
Brill Reel Mower Line:
The Brill Reel mower line includes the Razorcut 33, Razorcut 38, and Accu Razorcut . These mowers all have the same handle and handle assembly instructions…which we admit….are really easy but a bit vague in the manual. This mis-assembly has came to our attention this year when we noticed our customers calling to discuss the lawn cut problems or the feel of the mower, it was usually this "mis"-assembly problem. It took us a while to figure it out, and here's some pro-active info to help you off to a great reel mowing start!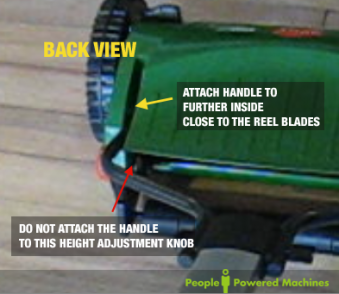 Brill Reel Razorcut Mower Handle Assembly
5 Minute Assembly- But Easy Bolt Confusion:
About 90% of Brill owners find this assembly quite straight forward. However, we regularly have people who attach the handles to the wrong bolt…they are attaching it to the orange height adjustment knob. These knobs are red/orange and are shown in the picture. Attaching the handles to the adjustment knobs will eventually ruin your mower…but more importantly, you won't get an easy or great mow and think it is the mower's fault.