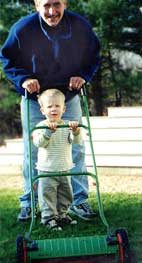 David + Matt Temple when Matt was 3 years old
Who We Are:
People Powered Machines, a company dedicated to providing the highest quality, environment-friendly products, is fueled by the energy of David Temple. David is married to Maria and they have two children, Matthew, 14, and Rose, 19. David is on the Board of Directors for GreenFox Schools. Formerly, David was a teacher at Shore Country Day School in Beverly, Massachusetts.
The company was spawned from our lifestyle decision to use a nonpolluting, health promoting reel push mower, and our frustration in finding a high quality product that would endure.
Since we started People Powered Machines, we have added products which are similar to the Brill Razorcut 38, our flagship product, in that they are the very high in quality and personally tested by David.
How We Found Our First Product: The Brill Luxus 38
Many years ago, we made the decision that we would use a reel mower exclusively– to enjoy our family gardening time with our small children nearby. The Brill 38 reel mower eliminated polluting fuels and noise, and we benefited from the good clean exercise that such mowing provides. Now we mow our acre lawn using only Brill, Sunlawn, and Epic lawn mowers.
Our First Push Mower:
We purchased our first reel mower at our local hardware store, where we bought what they said was the best model available. After several months of mowing with the reel mower, we were surprised to find our lawn thicker and greener. We inquired about this to a friend who was a landscaper, and he confirmed our observations, and informed us that a reel mower provides the healthiest cutting method for the grass plant.
---
Brill and Sunlawn Blades
Stay Sharp Longer!
In Reel Mowers, look for the
new generation
non-contact cutting system.
---
A bonus…what had started as a choice to promote a cleaner environment and healthier exercise was also adding to the health and beauty of our lawn.

Older Reel Mowers = Blade Sharpening Frustrations
Like most users of reel mowers, at the end of each season we had to take the mower to a shop for sharpening. Finding a shop that does blade sharpening was not easy, but we eventually found a fine service shop within twenty minutes of our home. At first, the mower cut well, though each year it required more service, and more sharpening. After three years, it became difficult to use, and we began searching for alternatives-not wanting to purchase the same type again. So we began our research of reel mowers.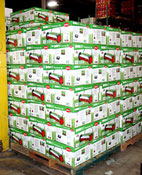 The PPM warehouse - fully stocked and ready to ship!
Then We Found the Brill Push Mower:
Our search for the most durable, high quality push mower finally led us to the Brill Luxus 38. While the 38 had long been Europe's top-selling reel mower, it was virtually unheard of in the States. Our lawn had gotten out of control when the Brill arrived by courier early one summer evening. We eagerly popped it out of its box, assembled it, and began mowing as dusk began turning light to dark. We quickly appreciated the superior quality of the Brill. There was a combination of powerful cutting action and lightness.
Yes, Our First Cut was Overdue + Hard!:
The initial mowing of that season was particularly hard work. The lawn had grown so high, maybe as high as six inches in places. If we had closer neighbors, we may have been tempted to borrow their power mower for this first cut. But subsequent mowings have been such a pleasure. The Brill handles like a finely crafted tool. Our 11 year old son, Matt, helps out with the mowing. Matt is responsible for his own section. In the old days, we customized a Brill for Matt which he loved to use. (We still fondly remember when Matt was 3 and used his "bubble mower" right along side us.)
So We Started PPM:
Assured of its durable quality and knowing how hard it was for us to find the Brill Luxus 38, we started People Powered Machines (PPM). Our company mission is to raise the awareness of the benefits of reel mowing, using cordless electric gardening tools, enjoying the best utility cart in the world, and the value of composting. We are pleased to bring you the finest we have found: The high quality Razorcut 38 and 33, The Accu Line, the Smart Cart, ROLYPIG, Sunlawn's LMM mowers, Tumbleweed, and more.
---
Our 17 year old daughter, Rose, and our 11 year old son, Matt, help out ... (We still fondly remember when Matt pushed his "bubble mower" along side us.)
---
All Products are PPM Tested:
All of our products have been fully tested; we know the products well. Products sold on this site are high quality, high performance.
Thanks For Another Fine Year!
We had another fine year, not only from selling these unique and high quality products, but in hearing from so many people who love the idea of lawn/garden care with less pollution. About 25% of our sales came from word of mouth; friends and neighbors chatting about these fine alternatives to gas-powered mowers, trimmers, and carts. You confirmed our belief that the Smart Cart is the best wheel barrow type product and that composting is high on many people's lists of what we can do to better take care of our environment. We learned from you that the Razorcut 38 and Luxus 33 are best suited to lawns of less than 8000 square feet (which are not long/thatched St. Augustine or Zoysia grass). We introduced the NaturCut reel mowers which cut up to 3 1/2" and are powered with 10" wheels. We happily learned that the Accu Mower 380 is for lawns of 2000 square feet and does a great job on St. Augustine (but does not work on Bermuda or Zoysia grasses). And because of the need for a reel mower which is high quality, affordable, and cuts Bermuda and Zoysia, we added the Silent Cut mowers, the Fiskars Momentum, and the 7 blade American lawnmower. Thank you all for the wonderful endorsements and testimonials, they keep us smiling. You are terrific, let's keep reel mowing, smart carting, and composting!
---
25% sales by word of mouth.
Thanks to you all!
PPM
---