Study Proves: Compost Helps Fight Off Plant Diseases!
"A study commissioned by the Waste & Resources Action Plan (WRAP) looked at recent research into almost 50 types of disease affecting plants and concludes the evidence that compost made from garden or food waste helps suppress all manner of wilts, rots and turf disease is overwhelming." Read more...
Sunmar Pages ::
- Compare the 3 Models
- Inside Sunmar 200
- Inside Sunmar 400
- Sunmar Manual
Why use a Drum Composter?
More Oxygen, Better Mixing, Faster Decomposition
Rotating the drum allows an abundance of rich oxygen to mix with the organic material. Aerobic, oxygen-loving bacteria that decompose green waste need fresh air to make compost--so the more air they get, the better your compost becomes. Mixing material in a drum also allows the proper amount of moisture, oxygen, and heat to build up throughout the entire pile, and not just one small section.
No Batches means Continuous Use
One of the problems with older types of drum garden composters was the need to finish a current batch before adding new material. In a Sun-Mar, material moves continuously through the unit. No need to wait.
Rotating Encourages A Hot Pile
In a Sun-Mar unit, the material does not cool down too much--even when you rotate it. You let the composter sit days before turning, and the heat builds up again within hours of a rotation.
Our Composter Line ::
We reviewed over 20 composters before choosing our composter line. What sets these composters apart is their ease of use and faster composting times. However we go one step further in choosing durable and easy to assemble systems that will be hard working garden tools for years (arduous assembly knocked out quite a few).
With the addition of the popular Green Cone Composting System, we now carry a line of 4 top quality composters including the Sunmar Continuous Composter Line, the Tumbleweed Composter, and the educational RolyPig Composter.



The install and forget it composter!
Empty it once a year or so.
No turning, maintenance, or distribution.
90% of composted material is absorbed right into the ground. Clever hey.
Handles kitchen waste from an average family of 4. Even meat and bones.



Our only batch-style composter, one that we felt was heads above all the other tumble type composters (and easy to assemble....some others took hours!)
Produces compost in 1/4 the time of traditional methods.
Just a spin a day.
Pest-free, sturdy, meets our testing standards!
Acknowledged Composting Technology Leader for 30 Years...
Sun-Mar, the acknowledged leader in composting toilets now brings their expertise to the garden. Sun-Mar knows the best way to compost is by using a rotating drum. They've been using a rotating Bio-Drum™ in their landmark toilets for over 25 years.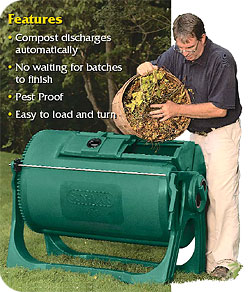 The new Sun-Mar garden composters take this concept a step further by adding a patented double-drum to the design. Compost materials go in the top and finished compost exits automatically out the end as the drum rotates. No more digging, forking, poking, lifting, or other "work" that previously went with composting! Easy to turn, easy to compost, and even easy to assemble.
Sun-Mar products are carefully inspected and packaged to assure they reach your organization or customer in their original manufactured condition. Where requested Sun-Mar contracts third party transportation carriers for product shipments on behalf of dealers and customers. Any product damage or loss occurring in transit is the responsibility of the transportation carrier and not Sun-Mar. Therefore it is imperative that all products be fully inspected prior to accepting delivery from the transportation carrier and prior to signing a proof of delivery/freight waybill.

In the event of an inspection determining product damage or loss it must be reported immediately either on the proof of delivery/freight waybill at the time of delivery, or the delivery should be refused with a note that delivery was refused due to damage. Once the proof of delivery/freight waybill has been signed by the person receiving the products it confirms that the merchandise was received free of damage and removes liability from the carrier. Any subsequent attempt to claim for loss or damage will not be accepted by the carrier. In the event a claim is required it must be filed directly with the transportation company, however, Sun-Mar will assist in this claim process if shipping was originally contracted by it and the preceding procedures adhered to.
Patented AutoFlow© Biodrum: the Breakthrough Idea
Easy to feed : Material goes in through easy-access top ports.
Back-saving ball bearings mean easy turning.
Patented, double drum, Autoflow® design. See diagrams of the inside
Compost exits automatically as the drum rotates :
Fresh compost comes out the bottom port, automatically, when done. Tool free, shovel free, fork free!
Easy to load and rotate.
Pest Proof

Assembly in minutes (really!): Just snap the cradle on to the drum bearings and you're ready to go

Tips for Using your Sun-Mar Composter
Not many tips actually since it's as easy as 1,2,3. (fill, rotate, remove)
Rotate the drum regularly

Add moisture to the drum if the contents get dry

Keep the composter warm (the sun usually does the job)

For the richest result, mix kitchen waste, yard waste, and brown waste (sawdust, dry leaves, straw)
Composting Can...
Reduce the amount of garbage you send to the landfill each year. Think of all of the kitchen scraps you've tossed, or weeds you've pulled. All of this material can become compost--and can stay OUT of the garbage dump!

Save money on your water bill. Compost helps the soil retain water more efficiently, so you spend less watering plants.

You'll have free, organic fertilizer--forever! No more bags of filler and chemicals.
Warranty
Sunmar Composters come with a 1 year warranty.
Shipping Info ::
Shipping within the Continental United States is $100 for the Sunmar 200 and $175 for the Sunmar 400.
Please email us for rates outside the continental United States and Canada.
Return Policy
Sun-Mar Rotating Garden Composter Models : 3 sizes to choose from
Sun-Mar 200
Sun-Mar 400
hobby gardener with kitchen scraps and general yard waste
serious gardener with kitchen waste and garden trimmings
Compact size is perfect for any yard
Mid-sized
16" high output port
18" high output port
50 gallon (6 bushel) size
100 gallon (11 bushel)
31" high x 33 11/42" long.
36" high x 42" long.
Depth: 24"
Depth: 28"
38lbs
60lbs
1 feed port
1 feed port
1 output port
1 output port
optional rollers
optional rollers

How the inside works

How the inside
works
easy & quick assembly (snap together)
easy & quick assembly (snap together)
Estimated Assembly Time:
5 - 10 minutes
Estimated Assembly Time:
10 - 15 minutes
Shipped in one box
Shipped in two boxes
SunMar's Warranty:
Fiberglass body: 25 years
Other Parts: 3 years
SunMar's Warranty:
Fiberglass body: 25 years
Other Parts: 3 years
Price: $350.00
Shipping: $100.00
Price: $449.00
Shipping: $175.00 to most locations
Most of our customers are covered by our shipping charge.
However, additional shipping fees for the Sun-Mar 400 may be necessary if a customer lives in a remote area because the trucking company will have to interline the shipment with another trucking company in that area.
Additional shipping fees for the Sun-Mar 400 will also be charged if there are a lot of tolls charged for entering a city i.e. New York City
Additional shipping fees for the Sun-Mar 400 will be charged for some customers on the west coast.
We will email you when we are ready to ship to inform you of additional charges. Most of our customers are not affected.